About Reliable Fence CT
Sometimes, a beautiful home on a perfectly landscaped property lacks a finishing touch. Or, a business needs a way to control who enters or leaves the premises. Maybe a free-spirited dog is endangered by traffic nearby. Fortunately, all of these common problems have an easy solution: a fence installed by our professionals can improve curb appeal and help protect your home or business.
About the Owner
"Big" Joe Iannone
"Big" Joe Iannone first encountered fence repair in high school, where his two main activities were participating in his school's championship hockey team, and his part-time jobs installing fences with various companies. After high school, he opened Reliable Fence CT. Decades of experience make Big Joe a master in customized fence solutions and customer service. For over 47 years, he has been the heart and soul of the company, and personally meets with every single customer to make sure their needs are being met. More recently, Big Joe's nephew Deven joined the company, and together they are proposing new ideas to advance the company's success.
Outside of work, Big Joe enjoys spending time with his two daughters and four grandchildren. He is also a classic car and hot rod enthusiast, and established the West Haven Classic Car Cruise at Savin Rock. All proceeds from this weekly event are donated to a variety of charities and causes, including the American Cancer Society, St. Jude Children's Hospital, breast cancer, Brain Injury Association of Connecticut, and many more. Big Joe is dedicated to helping his community through Reliable Fence CT and his other various endeavors.
Reliable Fence CT, based in West Haven, CT, has been in business since 1967. Our many years of experience have helped our company to become the biggest, most respected name in fence repair and installation in Southeast CT. We are family owned and operated, and we make personal connections with our customers – so much so that subsequent generations of the same family come to us for help! For any of your residential, commercial, security or recreational fence needs, trust the experts at Reliable Fence CT to give you exactly what you want. And you can expect exceptional customer service throughout the entire process!
Our Mission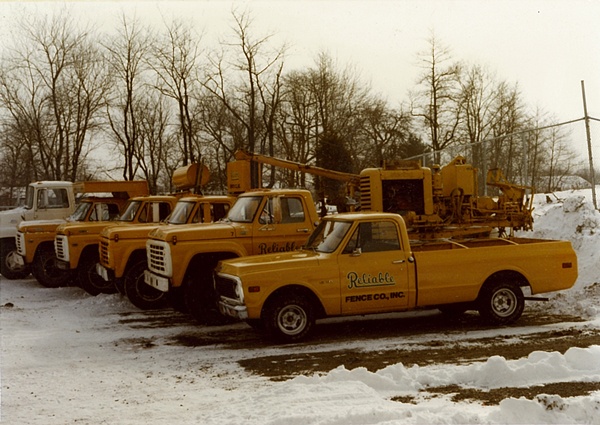 Reliable Fence is celebrating 50 years of business!
Here at Reliable Fence CT, our mission is to always provide the utmost attention to customer care and satisfaction. We achieve this by adhering to three core principles: quality, reliability, and trust. This means that we will work tirelessly to give you a fence that suits your requirements and tastes. And we will always be available to talk to you at any point during the job!
Dedicated to Our Customers
Our customer testimonials provide the most compelling evidence of our credentials. Along with our residential customers, we have been fortunate to service many important commercial and industrial clients over the years. These companies include: the New Haven Terminal, the Regional Water Authority, the Milford Power Plant, Magellan Industrial, Yale University, Yale Hospital, Yale School of Nursing, Yale West Campus, Albertus Magnus College of New Haven, the City of West Haven, the City of New Haven, and the VA West Haven Medical Center. We extend our thanks to all of our customers and look forward to continued business with all of our clients, old and new!
Looking to get started on a fence repair or installation? Contact us today to set up an appointment.